Cedar Lakes Estate
Cedar Lakes Estate came to us needing to update, streamline and elevate their logo and brand materials. Working from heritage artwork and a rich land history, we helped them corral what makes the property so special, and design assets to reflect that. After the brand update was complete, including new language around their offerings, we updated all their pitch decks, marketing materials and internal documents. The result is a sharp, impactful aesthetic worthy of the escape itself.
Visual Language Package
Creative Positioning Consultation
Copywriting
Marketing Materials Design + Update
Print and Digital Advertisements
Copywriting Jessica Gordon
"Working with Alison and BEST was an absolute pleasure. Alison does what she says she's going to do, when she says she's going to do it, and it is always perfect. There was never a missed deadline, a delay, or a broken promise. Aside from her reliability and professionalism, she also simply gets it. Our brand was always this inexplicable something that lived in my head. BEST not only improved and perfected our brand identity, but also gave me the tools to extract it and train others on how to use it. Our branding is now crystal clear, consistent and absolutely beautiful. I could not recommend them more highly!" - Lisa Karvellas, Owner and CEO
BOOM! by Cindy Joseph
A Pro-Age Skincare and Cosmetics company with a loyal following, Boom! came to BEST looking to elevate all of their brand graphics. An established (large) company, they had never had a dedicated art department. Little by little, we are working to tighten up and provide a consistent visual feel across all audience touchpoints that lives up to Cindy's objectives. This includes web and all digital and social communication, creating content and assets around product launches, reshooting their product photography, designing the packaging experience, and working with their team to revisit the identity and how that feels to consumers.
Concept, Production and Art Direction on all Launches
Campaigns and Brand Initiatives
E-blast Campaign + Template Design
Launch Microsites and Consulting on Brand Site
Social Templates
Consumer-facing Packaging
Shot with Sidney Bensimon Prop Stylist Rebecca Bartoshesky
Wardrobe Doria Santlofer Hair and Makeup Kayla Jo
"BEST does it all (and with a smile). They provide comprehensive 360° support as an art department for all of our needs both large and small – our marketing team has never had it so easy! Highly recommend." — Ezra Firestone
DESIGN HUDSON
The Hudson Business Coalition hired BEST to name, establish a visual language, and design collateral around their first weekend-long cocktail party and home tour pairing interior designers with historic homes. We drew inspiration from architectural shapes (we were in an art deco phase), and colors from the town. Creating an eye-catching, consistent design across all materials introduced Design Hudson as an elevated experience with lasting brand recognition. Each year we update the color palette, but keep the design to keep the branding fresh.
Naming
Visual Language Package
Marketing: Print + digital + outdoor advertisements
Event Collateral: event booklet + map, signage, decor
Germantown Laundromat
Introducing sustainability to a small American town and encouraging the community to change their behaviors to be more respectful to the Earth is no small feat. GTLMT is doing just that — with energy efficient machines, a shop of sustainable products and endless resources on how to live cleaner, we were happy to Join the Cycle!
Visual language Package
Messaging and Positioning Consulting
Copywriting, Tagline Development
Website
Social
In-Store Collateral (signs, decals, pricing, tissue, stickers)
Print Promotion (postcard, poster, business cards)

In collaboration with AL STAMPA Photography Matthew Johnson
"We could not have asked for a better collaborative partner while building the identity of our Laundromat + Sustainable Shop. Alison and the team at BEST were extremely organized and kept us on track throughout the entire process. From the logo, website, signage, social platform and messaging — each element added to our story and inspired participation. They took what we wanted to convey to our customers — environmentally focused, community-based, educational, approachable, welcoming — and incorporated this vision into every design decision. They made our story come to life and we love the outcome!" - Tracy Martin, Owner
Scribner's Catskill Lodge
BEST is Scribner's go-to studio for top line creative projects. We're proud to partner with them on new program launches, special in-room print promotions, and digital marketing materials. The Scribner Hollow Post is a collaboration with local writers, illustrators and photographers highlighting the area's talent. A more editorial approach to a city guide, the paper is a keepsake that speaks to the entire region. We're now prepping the third edition out this Winter!
Read about the design process in Newspaper Club's Interview with BEST here.
Custom Newspaper Promotion Design + Production
Friends of the Lodge concept, copywriting, design
(posters, social, email)
Visual Language for multiple upcoming programs
How to Survive in the Catskill Mountains in-room zine
concept, content creation, illustration, production
"Collaborating with Alison and her team has been a dream. She takes our thoughts and brings them to life through amazing visuals. I am continuously impressed by the way she is able to distill our concepts into beautiful imagery. She has been a great partner, and we look forward to continuing to work with her on our projects." — Marc Chodock
SHHHOWERCAP
SHHHOWERCAP looked to BEST for a way to push their studio shots creatively while staying true to the brand and allowing opportunity for future artistic growth. The images went on to live in the massive press SHHHOWERCAP receives, a Times Square billboard, and their site.
Campaign Photo Shoot Production + Art Direction
Shot with Brianne Wills Hair and Makeup Remy Moore Wardrobe Tableaux Vivants
"Can't say thank you enough for helping us pull this together. And I CANNOT wait to work with you again." — Jacquelyn De Jesu
Rally in the Valley
As part of our #stayBESTtogether initiative (design + marketing support for at risk organizations), we had the honor of working with Planned Parenthood on their weekend-long program, Rally in the Valley. Together, we raised over $11,000 for Upper Hudson Planned Parenthood. BEST is working with Planned Parenthood on this year's event now!
Naming + Copywriting
Visual Language package
Event Collateral: store decal, poster, takeaway map, postcards, tote bag, bandana
Digital Support: website, eblast design, social campaign
"Every time we work with BEST it seems too good to be true. As a non-profit organization, having the support of a design partner that understands our vision and needs with little effort on our part is an unbelievable gift. They worked within and respected the Planned Parenthood brand while still producing incredible, creative work. Not only has their work transformed the way we host and promote events, BEST has been unbelievably responsive, thoughtful, and generous with their time, energy, and creativity." — Rachel Hemmerstein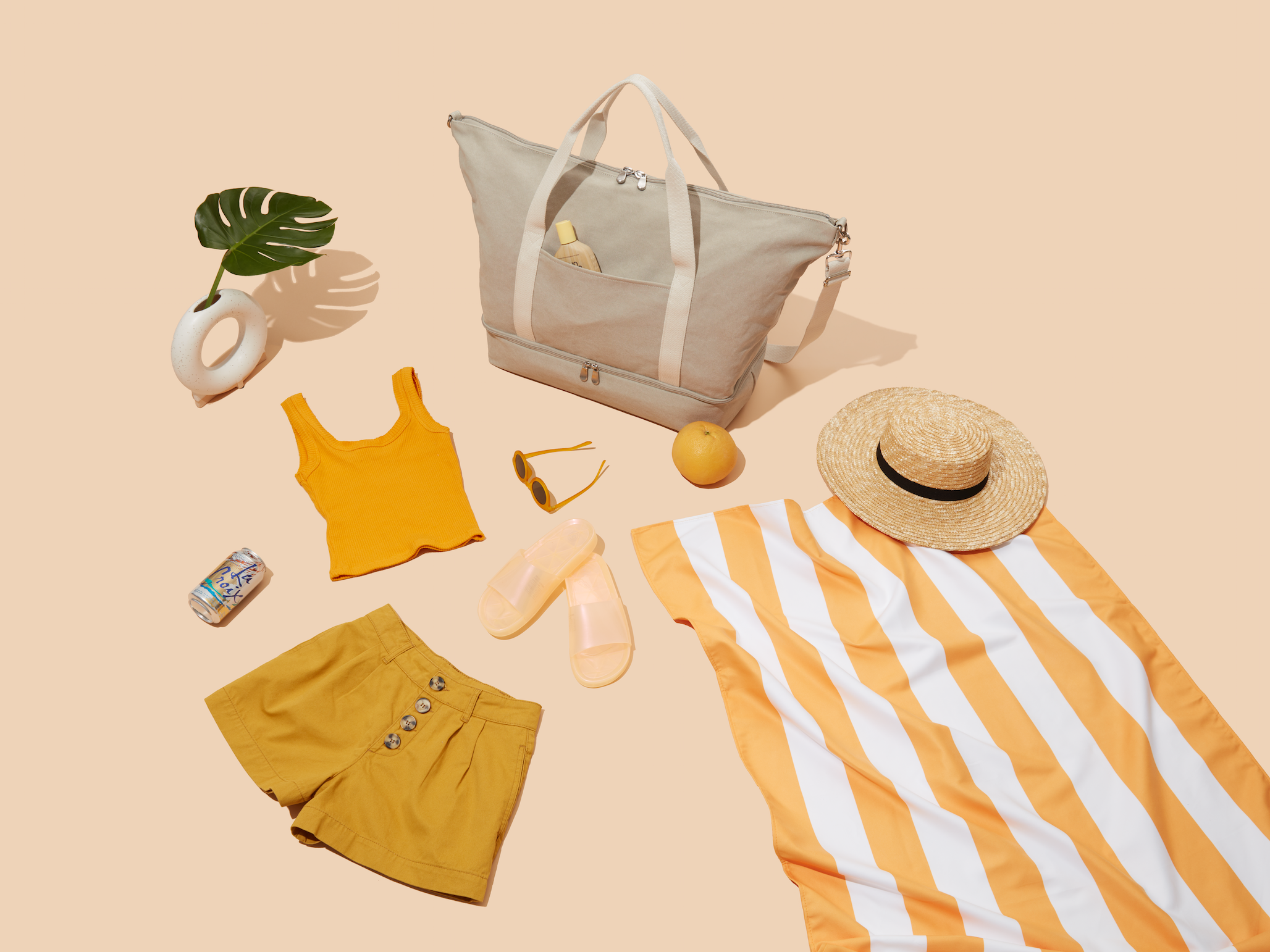 Lo & Sons
Bags built to travel light, Lo & Sons came to BEST to produce a shoot featuring their Catalina Weekender bag. With the objective of utilizing props, and the different functions of the bag (spacious bottom zippered pocket, luggage sleeve, colorways), we concepted a still and gif studio shoot highlighting the different trips you could take. Images were utilized on the website, in digital ads, and on social.
Photo Shoot Production + Art Direction
Shot with Bryan Edwards Prop Stylist Jenny Wichman
Aisle 9
Aisle 9 was upping their digital presence and needed a design refresh to match—taking affordable products found at big box retailers and giving them an editorial spin. Not necessarily shopping thrifty as shopping smart. Save money on your deodorant so you have more to spend on your perfume. We created a design system approachable but nimble in application.
Visual Identity Package, Digital + Mobile Content Hub Layouts
"It was so seamless [and fun] to work with BEST on the Aisle 9 identity refresh—having had the pleasure of working with Alison on multiple projects at this point, I rest easy knowing that I can always rely on BEST to serve up inspiring x of-the-moment design. I'm already scheming my next project so we can pick up the ol' email thread again!" - Anna Cottrell
Our Music My Body
Under BEST's #stayBESTtogether initiative, we partnered with OurMusicMyBody, an organization promoting consent at music festivals and concerts to create this quippy tote design. YES MEANS YES / NO MEANS NO is a smart and effective double-sided treat with a big message :)
Merch concept + design
"BEST reimagined an age old saying for us in a way that was meaningful on so many levels. We know we worked with the right studio when every person who looks at this item comments on it." — Matthew Walsh
NEGATIVE Underwear
BEST teamed up with NEGATIVE Underwear and photographer Spencer Wells to shoot a modern day CK Jeans throwback. The images were used as a social campaign, and in a series of three posters—WOOD, SAND, + SKIN—the back featuring interviews with each of the contributors.
Photo Shoot Concept + Production
Poster Promo Series Design + Production
Set design by the multi-talented Nic Annette Miller Styling + Casting Meg Stonebrook Hair and Makeup Maria Jones Studio Sky Gallery Muses Delilah Jesinkey, Stefanie Modares, Peri Rosenzweig, and Alexandra Sheehan
"BEST is an aptly named collective as it's my favorite studio to work with. Every shoot has produced a result greater than the sum of its parts, a collaboration in the truest sense of the word from beginning to end. The individuals brought together exemplify my ideal creative partners - visionary, motivated, and open." - Spencer Wells
Pipe & Vi's
BEST gives back with a pop-up breakfast taco and coffee stand showing our appreciation for the apple picking farmers of upstate. Named after iconic canines, Piper and Violet, and riffing on the Midwestern "Walking Taco," we served up a hot breakfast treat (The Doggie Bag, or The Greenie for our veg-head friends) using ingredients from local farms, and coffee from No. Six Depot. Custom branding included a shed mural, packaging with local newsprint, custom coffee to-go cups, and road signs.
Naming + Illustration
Visual Language Package
Shed Mural + Road Signs
Packaging (taco bags, coffee cups)
"Pipe and Vi's was an experiment in building a new community, opening doors, giving back—all while having a little creative fun. I was lucky enough to find a collaborating partner with BEST—who believed in my crazy idea and helped execute every detail better than I ever could've imagined. What I didn't realize at the time, but do now, is that this first experiment would exemplify what BEST brings to all projects. They continuously design and produce work that grabs peoples attention, gives back, and builds communities." —Tracy Martin
Made + Collected
Hudson River Exchange came to BEST looking for a design partner to launch the region's first directory specifically focused on local creatives. Made + Collected was born as an annual publication supporting HRE's wide presence in the upstate community.
Visual Language Package
Print Publication Editorial + Directory Design
Supporting Collateral: Postcard, Social Campaign
"Launching this project with BEST was not only the most important but best decision that I made. Without their partnership, Made+Collected would have remained on idea sitting on a shelf. They made the process and expectations clear so once I sent over the material, I knew this baby was in good professional hands." — Stella Yoon
Lola Boutique
Working off the creative brief of concepting a mini campaign around the shared, strong belief that quality > quantity and that personal style starts first with recognizing one's worth, BEST ideated #WORTHIT for Lola Boutique. From there a sweatshirt was created, along with a postcard series, and collateral for Lola's winter market.
Concept + Naming
Visual Language Package
Sweatshirt Design
Mini Promo Photoshoot Production + Direction
Store Collateral: window decals, photobooth graphics, postcard, invitation
VIACOM
Looking for support on creating content for their digital articles, Viacom enlisted BEST to design header and content graphics illustrating specific information served to the industry and internal teams. The challenge was to create a graphic style that was unique to the brand, but broad enough to be pulled through to multiple posts.
Digital graphic illustration, Infographics